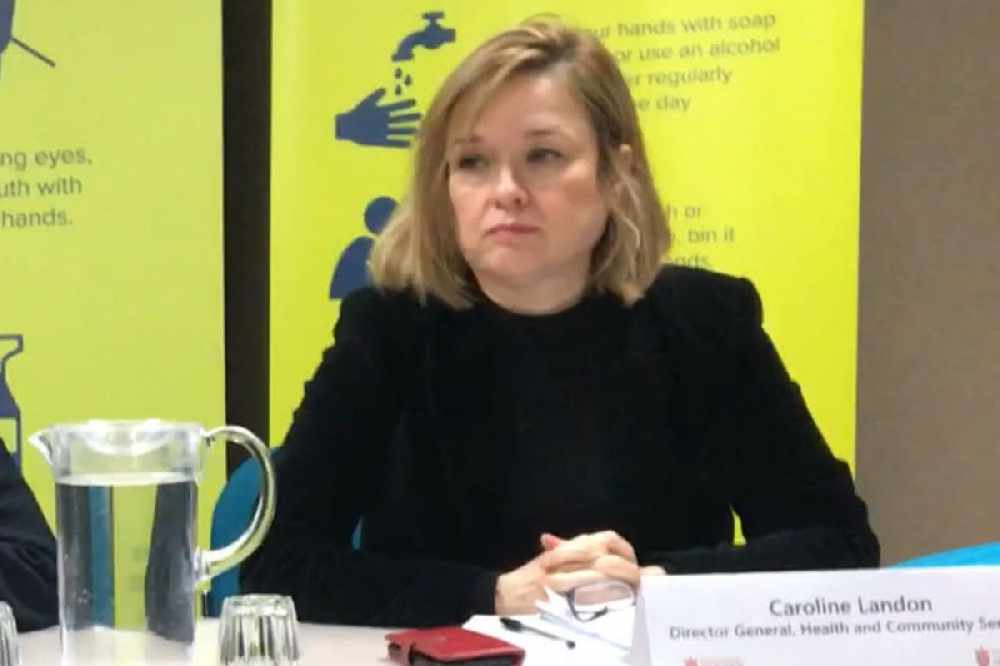 The Director General of Jersey's health department says as far as she is aware, there is no case of coronavirus being transmitted in Jersey.
Caroline Landon spoke in a press conference this afternoon, two and a half hours after the government confirmed there are now 5 cases of coronavirus here.
They all came from affected countries and went straight into self-isolation.
220 people have now been tested altogether.
Over 65s have been asked to go into social distancing, islanders have been advised to travel only if necessary, while anyone with flu-like symptoms should isolate for at least a week.
The DG explains why they've taken these measures and not followed other countries like the UK and Italy.
"Compared to the UK, we are behind the curve and we can learn from this and prepare for it.
"If we were to take proactive steps too early, for example requiring the compulsory isolation of certain age groups, we risk fatigue setting in - meaning that islanders will not observe restrictions when we most need them to."
In today's press conference, a panel of Caroline Landon, Chief Nurse Rose Naylor and Medical Director Patrick Armstrong answered questions on:
* Everyone has a part to play
- "We all need to support the most vulnerable in our society. This is really important, this will save news - we cannot stress it enough. You can make a huge difference." - Caroline Landon
* Social media speculation
- "This is a worrying time for many. Speculating on social media or other forums will only raise anxiety." - Caroline Landon.
* Following the latest advice
"The advice that is out there is the advice we really need you to adhere to. We cannot stress how important it is for us as an island, for islanders to follow those instructions.
"They are not enforceable recommendations and we would hope that we would not have to, in our island community, make them enforceable. Abiding by these measures will save lives." - Caroline Landon.
* Capacity for extra beds
- "We have looked across our economy to see where we can flex capacity if required and we have identified a number of sites which would be able to help us should we need to decant.
"They're part of our business continuity plan and I think to reveal those sites at the moment would be unhelpful. But if we do need to use them, be assured that we would share that information." - Caroline Landon.
* Why this advice has been delivered.
"We're really clear about looking at our modelling, making it Jersey specific, understanding our own island identity so that we can give the best possible response.
"It may feel like we are not responding every day in the way you would want to, but it's why I ask that people don't speculate.
"Please be assured that we are using the best possible sources of information to ensure that we provide the best possible response we can for islanders." - Caroline Landon.
* Three government-run day centres temporarily closed.
"We've had our staff in over the weekend to make sure that everybody has been contacted who was going to use those services today and into the rest of the week.
"The teams that normally work at those day services are looking at how they can support people differently and make sure we still have a lifeline to those individuals as well." - Rose Naylor.
---

Coronavirus Advice
If you think you might have the virus, you should self-isolate and call the Health Department's coronavirus helpline:
01534 445566
It's open every day between 8am and 8pm. Calls outside these times, or when the line is engaged, won't be answered straight away - but we're told to leave a message and Health officials will call you back.
Please don't visit your GP or the Emergency Department at the General Hospital if you think you have the virus.
Coronavirus symptoms are similar to that of the flu - a combination of a cough, fever and aching muscles. If you've had any symptoms, even if you haven't travelled abroad, we're being told to self-isolate until they clear up (for a minimum of seven days).
Anyone who has come into contact with a person confirmed to have the coronavirus should stay in self-isolation for at least 14 days.
All the latest information can be found on Gov.je.