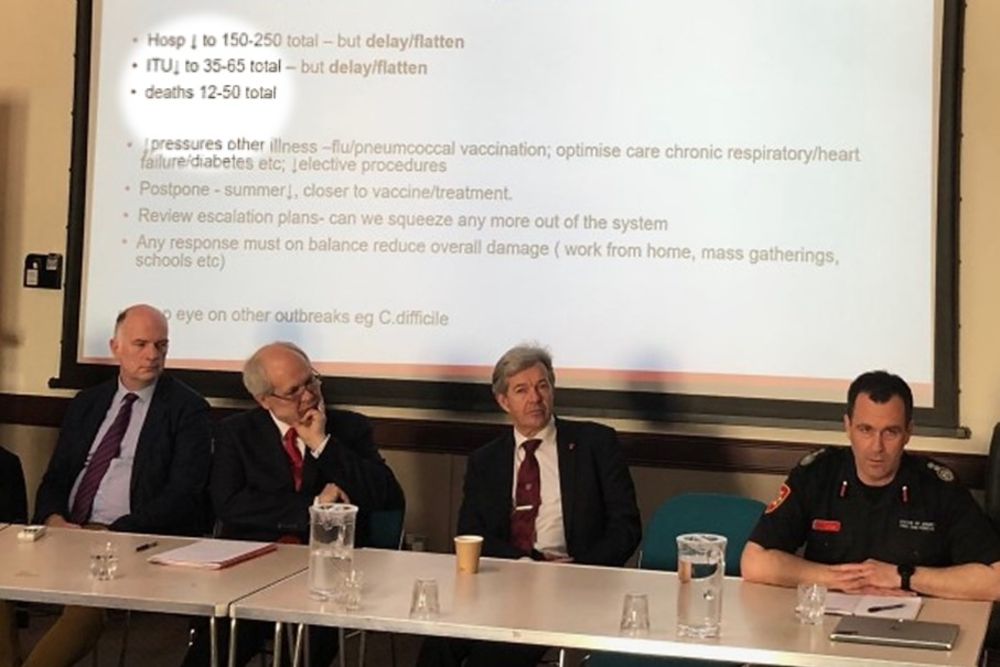 States Members have been briefed that between a dozen and 50 islanders could die if the coronavirus outbreak reaches Jersey.
The estimate was part of a presentation, led by the Chief Minister alongside the Health Minister, Deputy Medical Officer of Health and Head of the Emergency Planning team.
The slide, outlining steps Jersey's government could take to mitigate the impact of Coronavirus, was shared online in a now-deleted Tweet by Assistant Health Minister, Deputy Jeremy Maçon: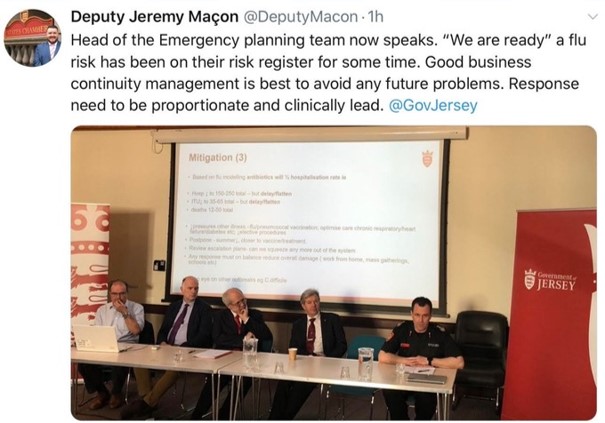 Image Credit: Deputy Jeremy Maçon / Twitter.
The media were not permitted to attended the briefing, but in an interview with Channel 103 afterwards the Health Minister, Deputy Richard Renouf, says the figures are just a 'reasonable worst-case scenario' - and the government is working to mitigate the impact of the virus:
"Most cases of coronavirus are expected to be mild to moderate and people can look after themselves in their home with medical advice. It is elderly people and people with long-term conditions that may be more vulnerable and we may need to bring some of those into the hospital for care. We are in close contact with care homes and residential homes where there is greater risk, and those people will be looked after."
The same slide also said that treating patients with antibiotics could halve the number of people being admitted to hospital.
During a scrutiny hearing this week, Director General of Jersey's General Hospital Caroline Landon said it will be able to manage:
"We have out business continuity plans in place, as we would for any major incident that could occur, so I am confident that we are able to cope if we do have any cases in Jersey."
In the latest advice to travellers, France and Germany have been added to the list of countries that people returning to Jersey from and who develop Covid-19 symptoms should self-isolate.
A major national public health campaign's being launched focusing on the importance of washing our hands properly, to stop coronavirus spreading.
Adverts being put out by the UK government - on radio, tv and billboards -will also advise people to cough or sneeze into tissues before throwing them away.
Jersey's government is sharing a similar message on its social media platforms.