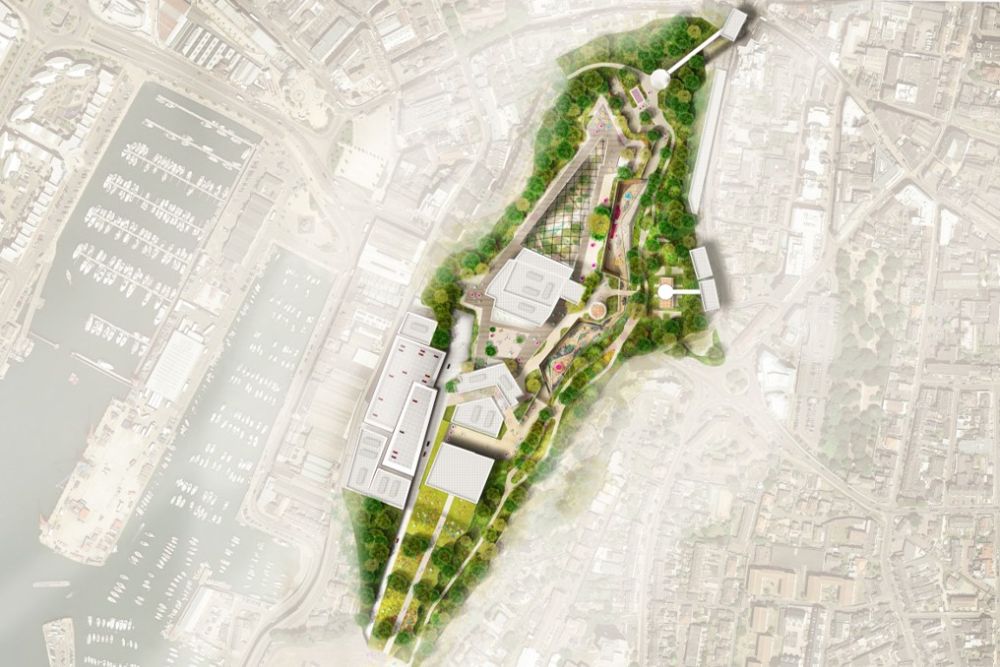 A ten year plan has been unveiled for the long-awaited redevelopment of Jersey's Fort Regent.
It includes a cinema, hotel, bowling alley and the island's first casino.
Covered winter gardens and outdoor botanical gardens would also be created, and play areas re-introduced on the ramparts.
The proposals also include a new lift for pedestrian access from Snow Hill and Hill Street.
The project would be carried out in stages, beginning with removing asbestos and existing structures that are no longer required.
Some of the first work proposed includes creating the pedestrian lift to Snow Hill, improving access to the ramparts, and creating garden areas and playgrounds.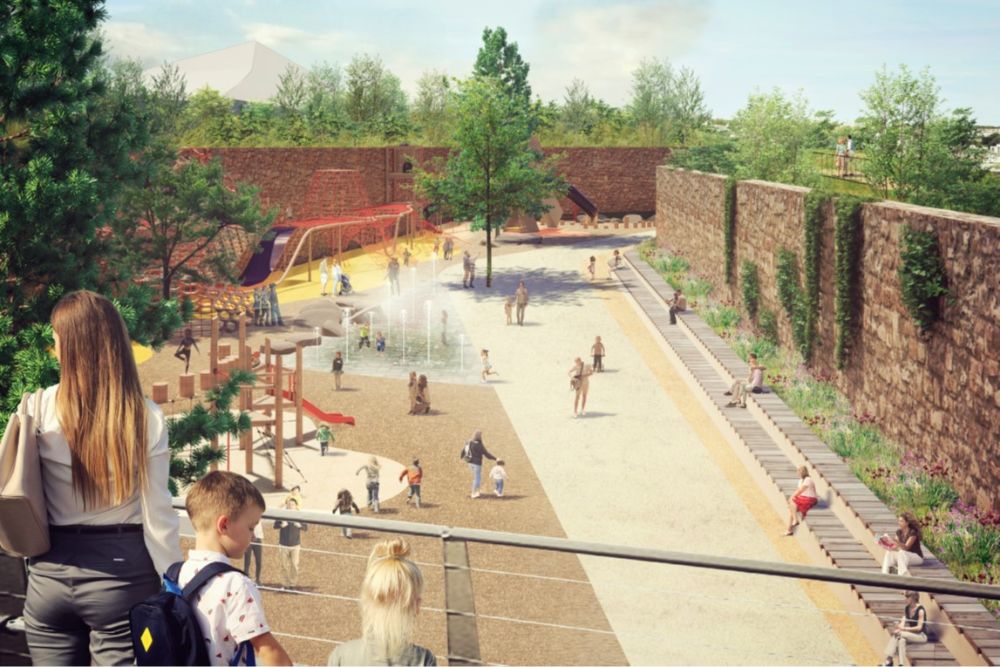 Later stages of the project would see the new multi-purpose event space and winter gardens created, along with 150 bed hotel and spa, food and drink venues, entertainment attractions, and an 'indoor leisure box' containing a new play area.
The events venue would be designed to have a flexible capacity of 500-2,500 people. It would be able to host concerts, exhibitions and conferences.
The plan says it would stage 160+ events a year.
The winter gardens would include a 'wow factor' 'Walkways in the Sky' - giving people the change to walk amongst the treetops on 20 metre high platforms.
As part of the proposals, the iconic Fort Regent dome would be removed.
The government has launched a public consultation into the plans, saying it wants Fort Regent to 'benefit the whole community'.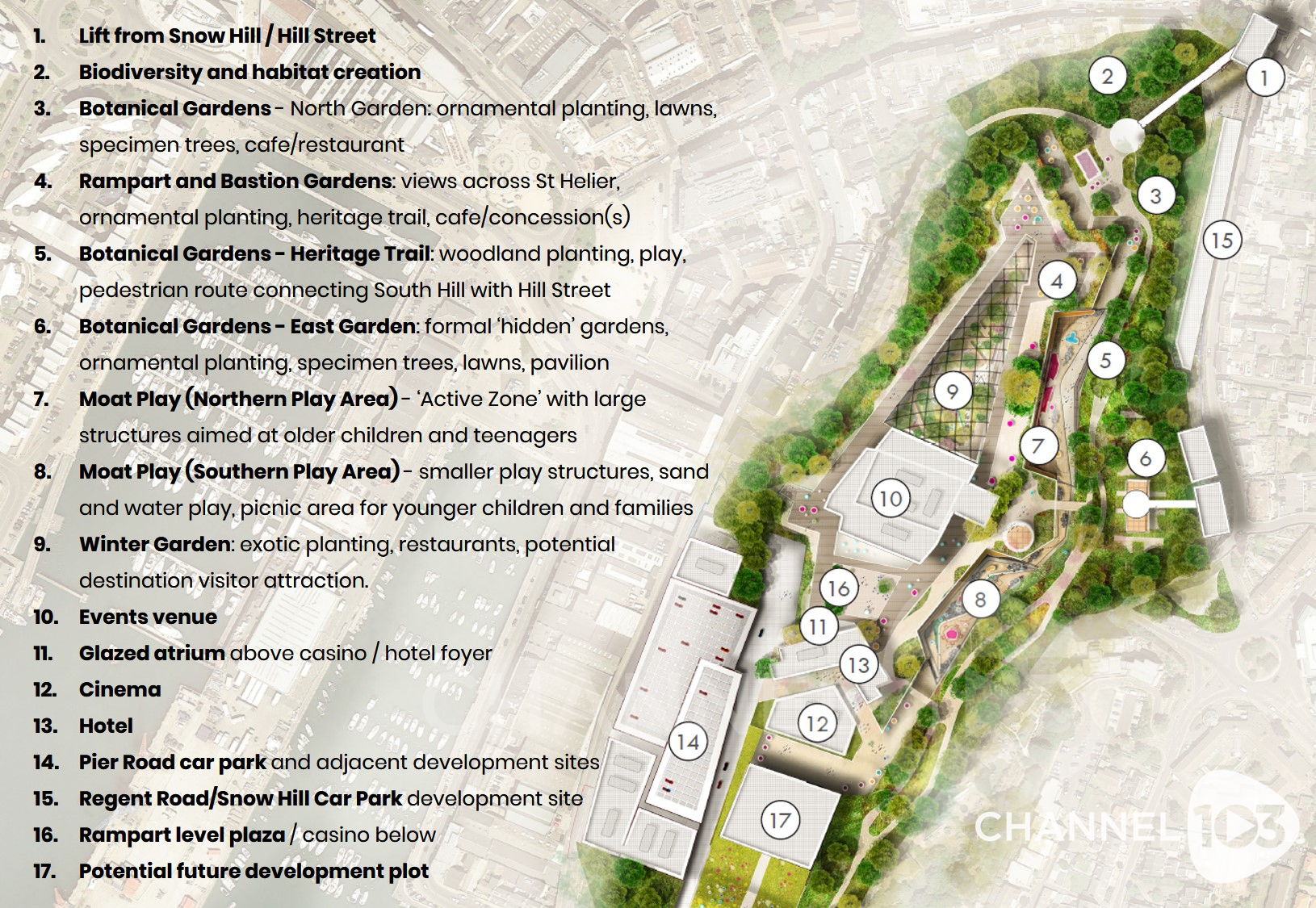 The government's proposals for the future of Fort Regent (click or tap to enlarge)
The Chief Minister, Senator John Le Fondré, says the refurbishment has been a long time coming:
"Fort Regent is an important part of St Helier's skyline, and many Islanders will have fond memories of the venue.
"Unfortunately, over the years, it has become under-utilised and needs investment and rejuvenation.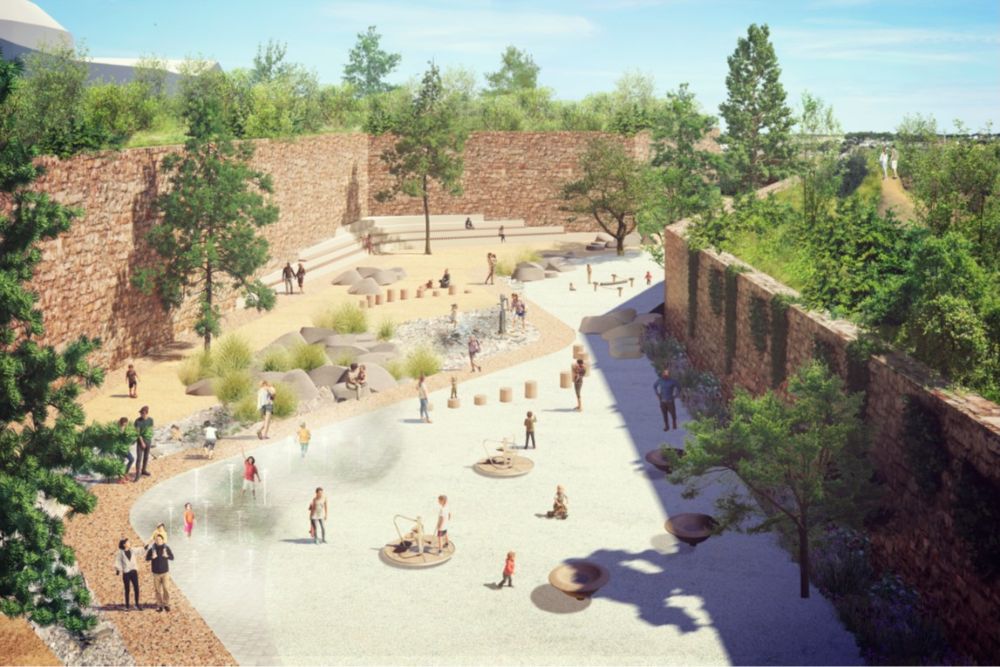 "In March, we announced our Inspiring Active Places strategy which moves existing users of Fort Regent into new state-of-the-art facilities, so that our attention can turn to the future of Fort Regent.
"The Future Fort plans demonstrate a vision to turn Fort Regent into a cultural and leisure destination, providing activities for Islanders and tourists of all ages to enjoy.
"The focus groups and online community groups received the plans with enthusiasm, but we want all islanders to get involved in sharing their feedback on the plans, as this will be a venue for the whole island to enjoy."
Events will still be able to take place in the Fort Regent halls until construction work on the new events venue begins.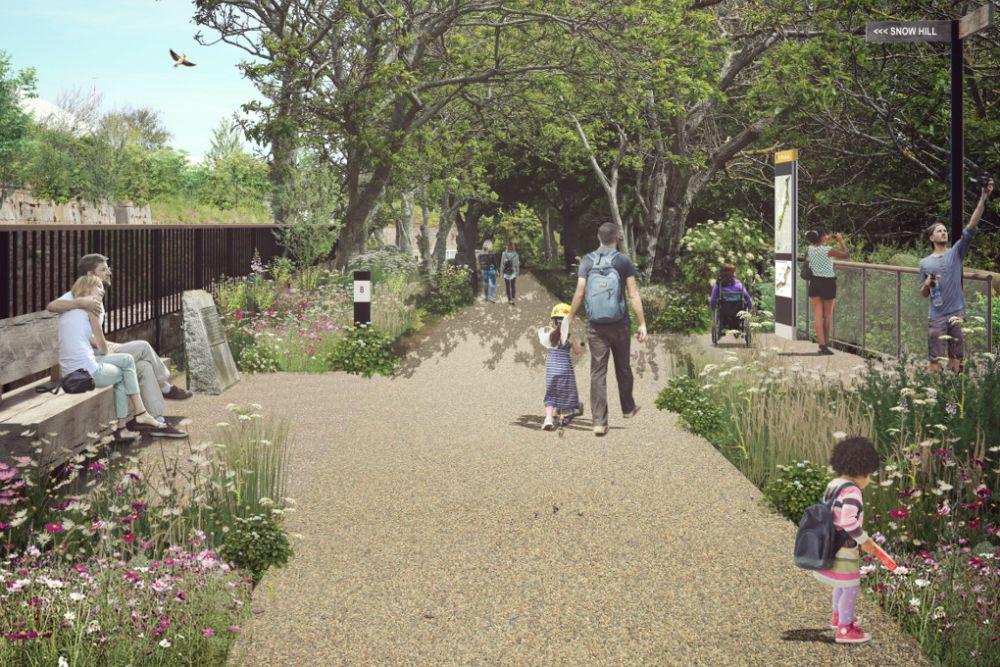 £8m has been set aside initially to begin the first stage of the project, including asbestos removal.
Ministers want to have secured planning permission for the access from Snow Hill before next spring's election.
The later stages of the project are expected to be partly-funded by private investment.