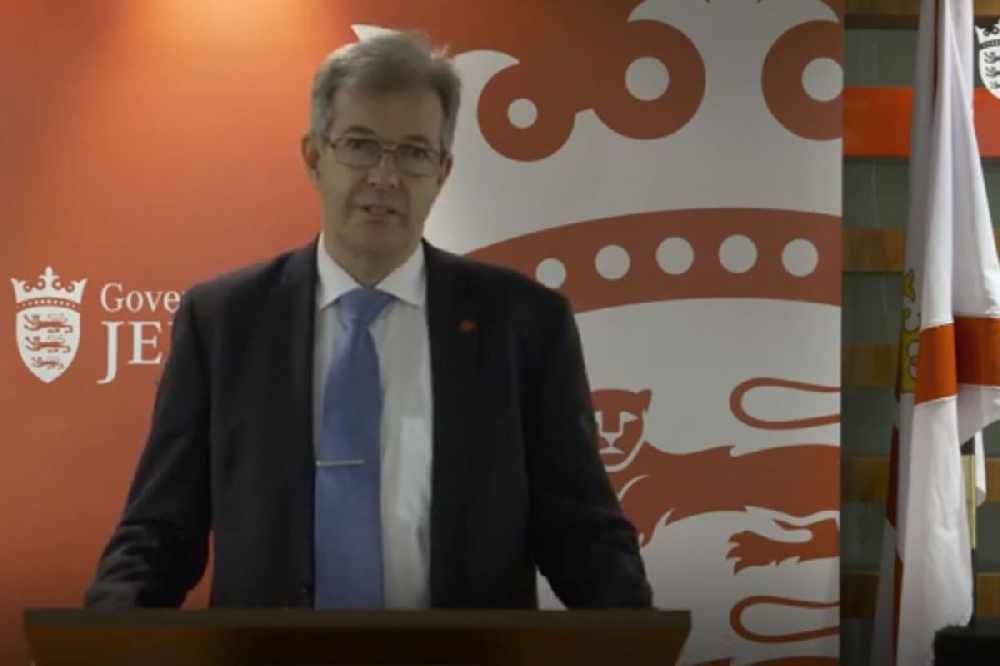 Jersey's Chief Minister will hold the first of what we're being told will be twice-weekly press conferences this afternoon, where he will take questions from journalists about the coronavirus crisis.
Senator John Le Fondre has been widely-criticised for his communications during the pandemic, including his use of pre-recorded video messages and the lack of information about those who have suffered, recovered or died from Covid-19.
The government's communications unit has said that the Chief Minister will face the media - over video-conferencing - at 2pm on Monday and at the same time on Friday.
It says the intention is for that pattern 'to be repeated'.
The media is also expecting details on local coronavirus recovery-rates, having repeatedly asked for the information along with details of the number of patients being treated in hospital for the virus, the number in intensive care and the age-range of those who have contracted the disease and those who have died, and the ratio of deaths in hospital, care homes and/or in the community.
In a statement on Friday the Chief Minister said:
"There are currently 72 Islanders being treated in hospital for a range of medical conditions.
Of those, 21 are Coronavirus patients. And a very small number of those are subsequently receiving intensive care.
We have 125 beds available today in the hospital.
There are also 3 cases of COVID-19 currently being treated in our community facilities."
As of Sunday afternoon, 249 people have now been officially diagnosed with coronavirus in Jersey.
That's an increase of four since the previous updates, with a further 30 people testing negative.
12 people have passed away after contracting the virus.
Yesterday Guernsey reported no new cases of the disease, but the Public Health Director Nicola Brink said there was 'no room for complacency'.
Guernsey has 239 confirmed cases, 9 deaths - one of which was in hospital - and four further 'presumptive deaths' where there has been no confirmed positive test of the deceased.
It's detailed test information shows there are six patients currently in hospital with Covid-19 and none in intensive care.
97 people have recovered from the virus. Guernsey will begin to ease some lockdown restrictions from next Monday.
Senator Le Fondre said on Friday:
"From next week we will publish further details that islanders have been requesting, including the number of Islanders who have recovered from
COVID-19 and demographic details of those who have been treated."
He went on to address criticism of his communications, saying he had been 'listening carefully to comments from the public, and from the media, about how we communicate, and ways we can improve'.
"To date, I've given five press conferences and taken part in a Twitter Q&A session. Other Ministers and officers have taken part in a further eight press conferences, as well a number of briefings to States Members. But because of the challenging and urgent decisions that we've made over the past two weeks, we've not been able to hold more regular press conferences, as we would have liked.
From next week, we will move to a series of more regular press conferences, at least two a week with myself – on Monday and Friday – and with other Ministers during the week.
We will invite the media to attend these Press Conferences to ask questions and to closely examine the Government's response."
Meanwhile, workers brought over to the island from the UK to build Jersey's nightingale hospital have been clapped as they were bussed away from the Millbrook site over the weekend.
A huge thank you goes out to the Neptunus guys for building the Nightingale Hospital structure in less than a week. Yesterday was their last day on site and where clapped off the job as we picked them up. Hope to see you all back in Jersey once all this is all over. 🙏 #neputunusstruc #radisonblujersey #nightingalehospitaljersey #staysafe

Posted by Jersey Bus & Boat Tours on Saturday, April 18, 2020
The structure has been completed in just a week and is being fitted out to be ready to take coronavirus patients from 4th May.
St Aubin's Inner Road closed at 8am this morning and will remain shut until 6pm on Sunday while a hole is dug to connect water and power supplies to the field hospital.
Diversions are in place and access to premises is maintained.
Growth, Housing and Environment Director General, Andy Scate says there'll be two entrances to the building - the main one on Victoria Avenue which will receive patients from the General Hospital, and a services/staff entrance on the Inner Road.
Homeschooling resumes for children across Jersey today as the start of the summer term gets underway.
Jersey's schools are closed until at least the 5th of May, but the Education Minister Senator Tracey Vallois has said she expects they will have to stay shut for longer.
The UK Education Secretary too has said he still can't give pupils a date when they could go back, but Gavin Williamson has ruled out opening classrooms over the summer holidays.