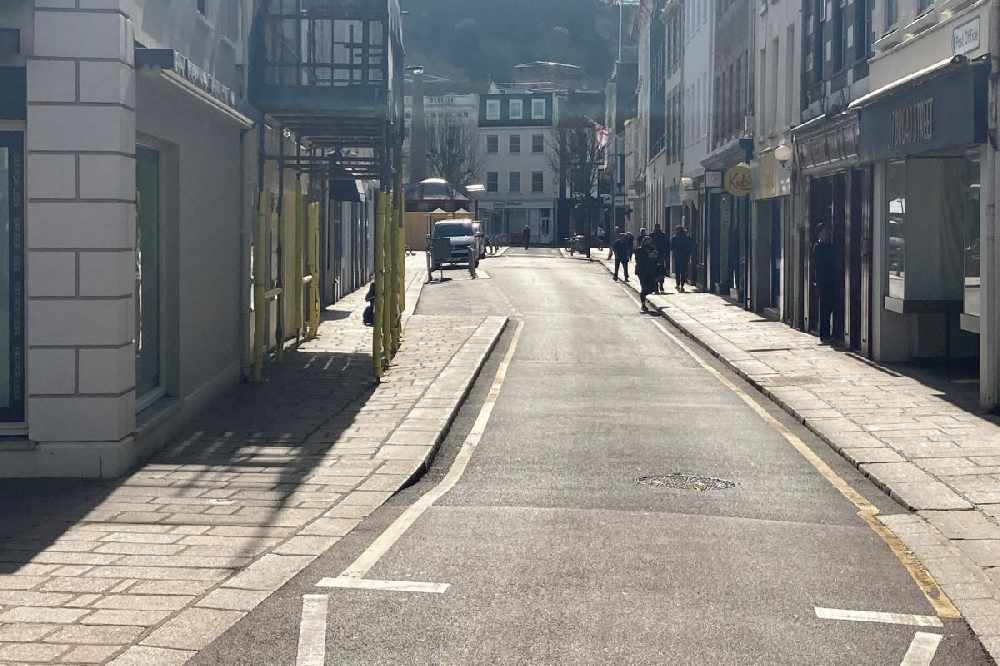 Buses can use Broad Street again, but other motor vehicles are still banned from using the road for at least the rest of this year.
The States has voted to trial a 'sustainable transport corridor' to help disabled people get into town, support active travel, and increase footfall to town shops.
The road has been closed to vehicles since 23 May last year to encourage physical distancing.
There has been pressure from town retailers, the Chamber of Commerce, and many islanders for the road to reopen ever since then, but the Infrastructure Minister said it would stay shut as long as medical advice stated that distancing in town was necessary.
The Constable of St Helier proposed that the current pedestrian priority restrictions continue for the rest of 2021 so the road could host activities and events in the hope of encouraging more people into St Helier.
Simon Crowcroft also accepted Deputy Kevin Lewis's request to allow buses to use the road again.
"I think the opportunity to bring buses into the heart of town, particularly if we have the new Hoppa bus that is being promoted by the (Infrastructure) Minister, and particularly if there is an electric bus fleet that we have in a number of years.
"I think that will actually compliment the heart of town. It will certainly bring customers into town and set the cash tills ringing and that of course is an extremely important thing for us to be doing as we come out of a pandemic.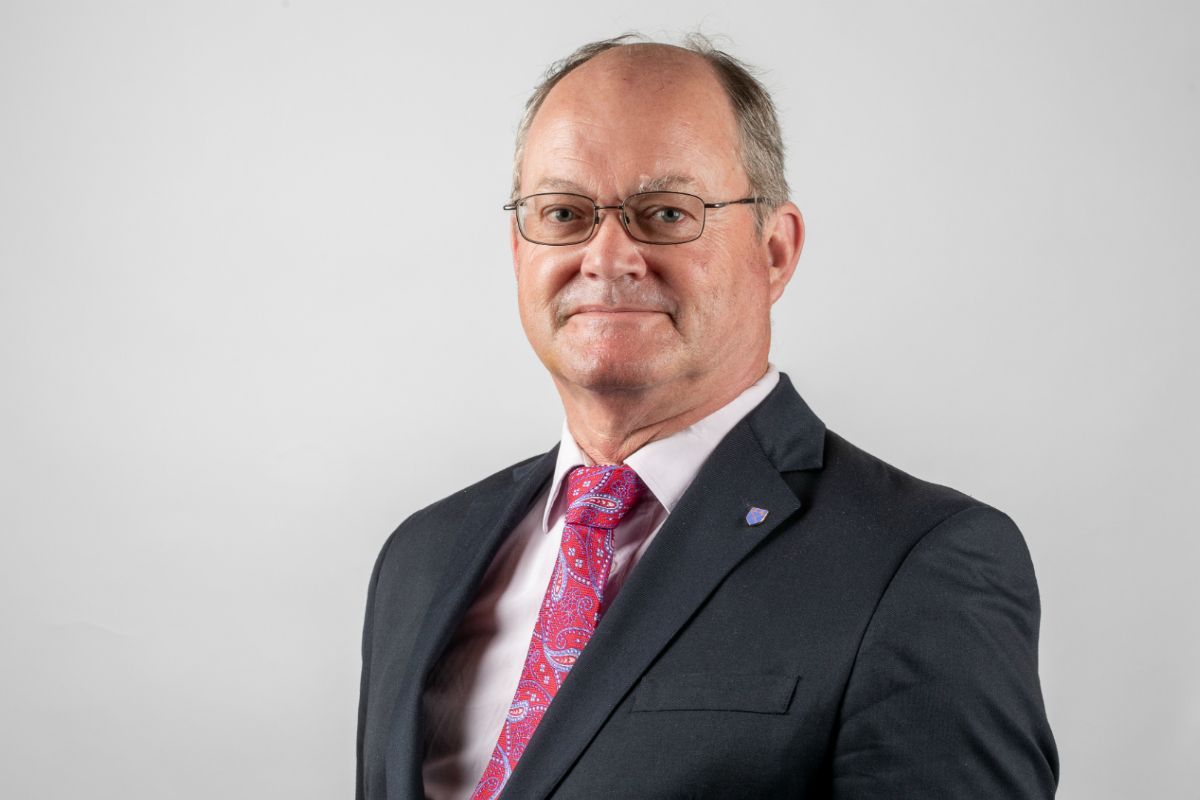 "No-one who visits the excellent new Santander Work cafe in the former Thomas Cook building and looks past the seating and the crapaud on its plinth can fail to be struck by the opportunities offered by a second pedestrian priority route in the heart of town.
"It's important to emphasise that it is just a trial. It is to see how things go for the remainder of this year, and monitor the effects and report back to the assembly. I think that is important to note because it is not going to be set in stone."
Deputy Lewis said if this proposition wasn't brought forward, or it was unsuccessful, he would be compelled to lift all current restrictions on the road.
A pop-up garden was installed on Broad Street in the lead-up to Liberation Day last weekend as one measure to try and get more people using town again.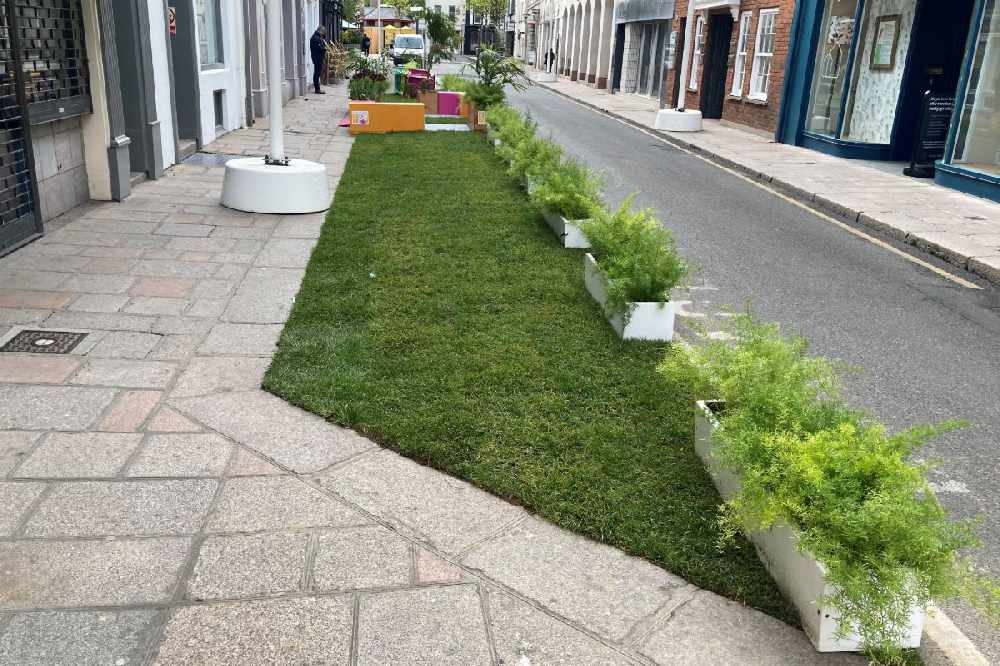 Half of town retailers who filled out a Chamber of Commerce survey thought keeping Broad Street closed to vehicles for the rest of the year would be a negative step to take.
But 8 in 10 Chamber of Commerce members wanted a study done first on how it will impact businesses.
35% thought keeping the current restrictions would damage their business. Just 13% thought it would benefit them.
Assistant Economic Development Minister Deputy Kirsten Morel says the proposition isn't based on any data or evidence and should really be part of a bigger plan.
However, he says that evidence can be gathered during this trial.
"I feel it is likely, when I look at the experience of towns like Pontevedra and when I look at King Street and I look at Queen Street, it is likely in my opinion that those shops on Broad Street will benefit from the pedestrianisation of Broad Street in an attractive area to walk down, but we need to count that and we need to know whether that is the case.
"What I will do is I will look at the various means to see if it's possible to get another footfall counter onto Broad Street that would fit in with the interim retail strategy. That would give us a sense of the data as to whether the pedestrianisation has increased people's active shopping activity in Broad Street."
The States also approved an amendment from Deputy Inna Gardiner, which asked for extra on-street parking for disabled drivers close to Broad Street by the end of July 2021.
The Infrastructure Minister has to report back on the success or otherwise of the scheme by the end of the year.