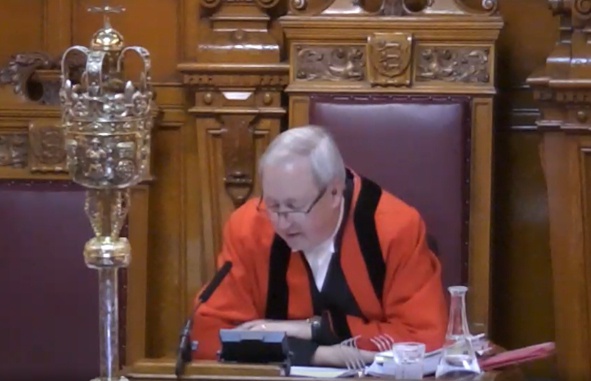 Jersey's Bailiff says the long-running debate over his position has 'bedevilled' his tenure.
Sir William Bailhache has made the comment in his foreward to a report to the States ahead of his retirement next month.
It comes after the most recent attempt to end his dual role failed.
Senator Sam Mezec was the latest to call for the Bailiff's duties as Chief Judge and President of the States to be split, but withdrew his proposition after the States Assembly voted to put the issue to a referendum.
In his final States Assembly annual report, Sir William says whilst it's important for the Bailiff to be impartial, the topic has made it more difficult for him to express views that may well have helped the Assembly.
The Bailiff has also questioned whether May is the right month to hold a general election.
He says voter turnout last year wasn't significantly better than in previous elections, which were held in the Autumn, and that doing it close to the summer break means that very little is done over the four months after the election.
Sir William signed off by saying it was a privilege to be President of the States.
"It would be going too far to say that I have enjoyed every single debate, but I can say without hesitation that I have always enjoyed participating in the democratic process, and that I have tried in all the jobs I have done - as Attorney General, Deputy Bailiff and Bailiff - to perform the respective functions in a non-political way. Sometimes - and I think these are fewer than my critics would have one believe - I have no doubt failed in that, but it is not for want of trying."
He'll be replaced by Deputy Bailiff Tim Le Cocq on 17th October.