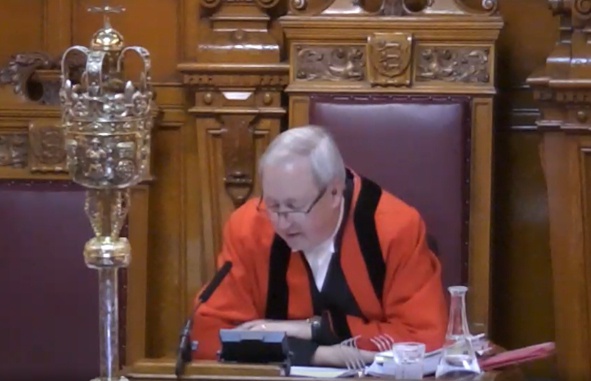 A vote that was expected today on the future role of Jersey's Bailiff has been scrapped.
Senator Sam Mézec has withdrawn his proposal for replacing the Bailiff in the States Assembly with an elected speaker.
It's after a change was voted through on Thursday that would have put it to a referendum.
Grouville Constable John Le Maistre secured backing for a public vote by 25-22 if politicians had gone on to adopt the proposition.
Day 4 in the States today. This is the day where Sam Mezec withdraws his proposal on replacing the Bailiff as speaker of the States, thereby rendering useless 3 hours of painfully tedious debate yesterday.

— Kirsten Morel (@KirstenJersey) May 3, 2019
The matter is due to return to the Assembly again in June when the Chief Minister will try and win support for a so-called 'compromise' that would keep the Bailiff's dual role.
Senator John Le Fondré wants the Bailiff to continue to preside over the Assembly, but an elected speaker to stand in his absence.