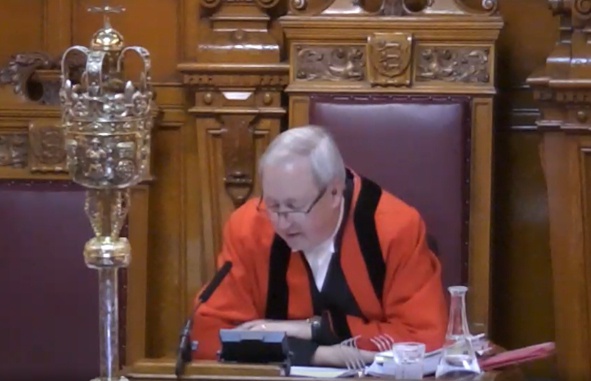 Jersey Chief Minister has failed in his attempt to save the Bailiff's dual role.
Senator John Le Fondre's proposal to elect a speaker only when the Bailiff and Deputy Bailiff are absent has been rejected by 31 votes to 16.
He brought it forward as a so-called 'compromise' after Senator Sam Mezec called for Sir William Bailhache's duties as Chief Judge and President of the States to be split.
Senator Mezec withdrew his proposition in May after States Members voted to put the issue to referendum.
He had described the Chief Minister's idea as a 'fudge'.
"It beggars belief that in the year 2019 some people still haven't realised that we need to be a 2019 democracy. We need equal votes, we need separation of powers, we need an elected speaker, and those who insist on keeping Jersey in the dark ages are doing their island a disservice. This proposition is doing our island a disservice."
Senator Le Fondre had hoped it would put to bed the long-running saga over the Bailiff's role, but it is now no closer to being resolved.
The Chief Minister had this message for States Members;
"I hope anybody who does bring back a further proposition will recognise that this Assembly has previously said that people should decide because it is a significant and constitutional change."
See how they voted here