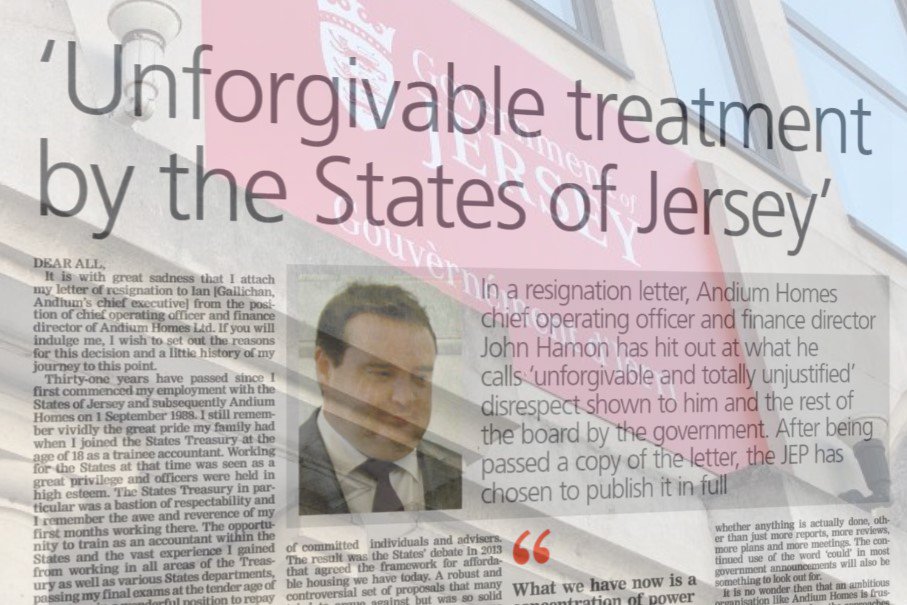 A top executive at Andium Homes has quit saying Jersey's government has 'lost its way' and has 'perhaps a more sinister side'.
Finance Director and Chief Operating Officer John Hamon's strongly-worded resignation letter has been leaked to the JEP and was printed in full in Tuesday's edition of the newspaper.
"It has become obvious to to anyone with any interest in local affairs that the Government of Jersey has completely lost its way. The leadership is non-existent, leading to complete stagnation, with review after review from consultants, policy boards, and practically any other device in order to avoid making a decision. Into this mire has stepped new civil servants that are clearly now in control and setting the agenda."
The letter goes on to describe a culture that 'lacks integrity' and is 'dictatorial', and says that many in the public sector are too scared to speak out.
"What we have now is a concentration of power in the hands of the few, the employment of many with with little or no local knowledge and a culture that leads to nothing other than procrastination."
Mr Hamon says Andium is being stopped by its owner from getting on with its important work. He says the disrespect he and members of the board have been shown is 'unforgivable and totally unjustified'.
His departure from the social housing provider comes amid a long-running salary dispute between the Board and Ministers.
Mr Hamon's pay increased from £120,000 in 2016 to £141,000 in 2017, while Andium Chief Executive Ian Gallichan had a rise from £150,000 to £189,000.
Mr Hamon - who has worked for the States of Jersey for three decades, writes that Andium's success has been down to having 'the right people in the right roles' and that the 'uncertainty and threats' about his pay has been 'absolutely intolerable' and 'no way to treat a conscientious, talented and hard-working individual that gives so much'.
The Chief Minister has responded by issuing a statement.
Senator John Le Fondre says he regrets Mr Hamon's decision to resign, but thanks him for his services and wishes him well.
"Andium Homes is 100 percent owned by the Government which, as the sole guarantor, has responsibility for ensuring that the company operates with the utmost integrity and compliance with its Memorandum of Understanding with the Government.
We have been in discussion with the Board of Andium Homes for a number of months over some issues which have emerged over the governance and levels of remuneration in the company."
He adds that work is being done to fill vacancies on the board, but would not comment on the 'personal opinions' expressed in the letter 'at this time'.
Senator Le Fondre says he will wait for the Comptroller and Auditor General to publish her report into the Remuneration of Boards before commenting any further.
The outgoing Chair of Andium, Frank Walker, has also issued a statement on behalf of the board.
Expressing deep disappointment that confidential documents had been leaked to the media, he goes on to express regret that the unresolved salary dispute has led to Mr Hamon's resignation.
"John has been an outstanding member of the Board and Leadership Team at Andium Homes. He has played a major part in the success of the Company which has included substantially improving the lives of our tenants. In particular, John has managed the Company's finances in an exemplary manner. This, coupled with his always well researched and sound advice, played a big part in giving the Board the confidence it needed to invest in its hugely expanded development programme, which is resulting in the provision of thousands of much-needed high quality new homes for tenants and first time buyers.
The Board is extremely grateful to John for everything he has done for Andium Homes and we are extremely sorry that he has felt it necessary to make this decision. He leaves with our sincere thanks and best wishes for the future."