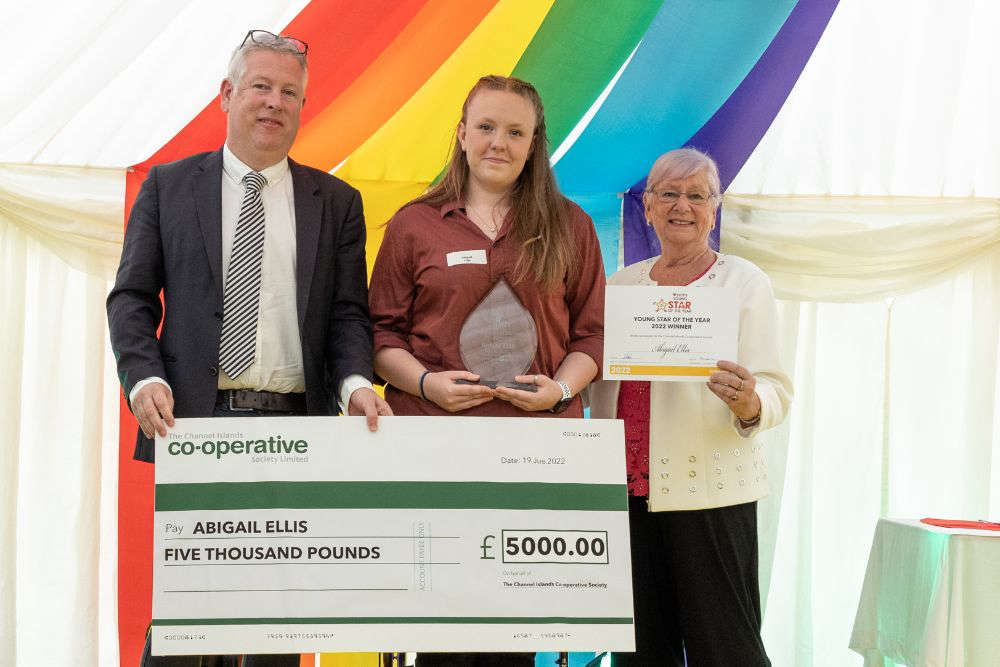 Abigail Ellis receiving her cheque from Sandra Auckland from Variety and Dave Chalk representing the Channel Islands Cooperative Society
16 year old Abigail Ellis is the Variety Young Star of the Year 2022.
She has been crowned the overall winner for her outstanding community work with the St John Ambulance Cadets.
The teenager is a Senior Cadet in the Mountbatten unit and has already received the Grand Prior's Award, which is the highest award a cadet can receive.
Abigail is also chairperson of the Grands Vaux Young Members Committee and a young leader at St Mark's Guide Unit.
18 other young islanders have also been recognised at a Government House ceremony.
Two young friends have been given a one-off Bravery award after they went through a frightening experience together.
Another child pulled a knife on CJ Ballantyne (8) and Jace Renouf (7) while they were playing together.
The quick-thinking of Jace to push his friend out of the way to make sure no one was seriously hurt.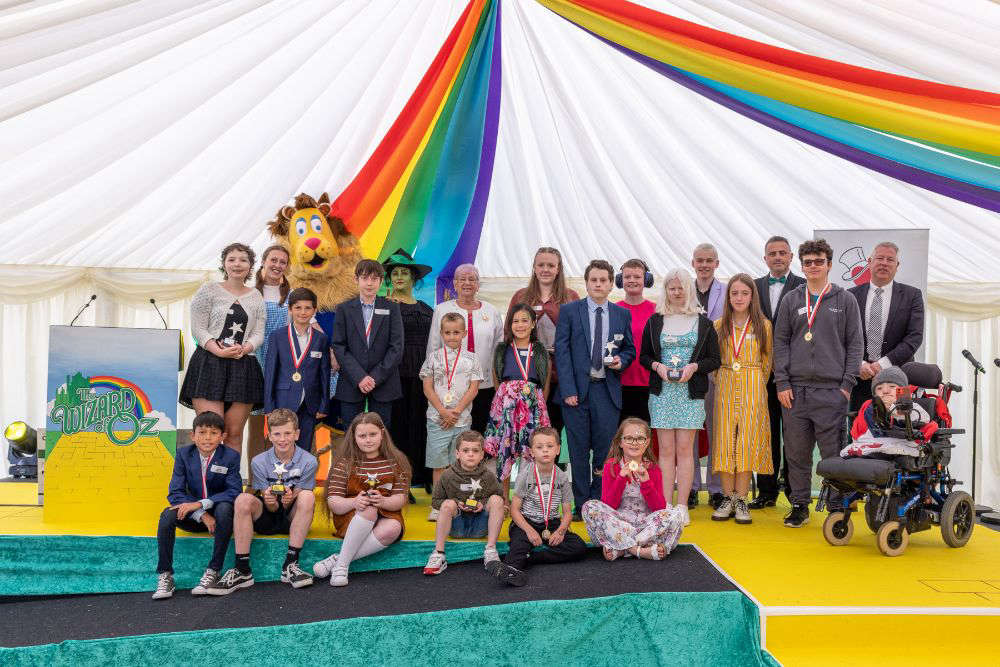 Variety chairman Sandra Auckland says she's more amazed by Jersey's young stars every year.
"The nominations are always so poignant and inspirational. This year, every finalist has demonstrated strength, hard work and dedication that is well beyond their years.
This event is so important, not only to recognise their past achievements but also to encourage their future aspirations."
The winners and finalists are:
Young Star of Courage 6-12
Winner: Oscar Militis (12)
Finalists: Henry Hunt (6), Lydia Brown (9), Flynn O'Haire (7)
Young Star of Courage 13-16
Joint Winners: Tallulah Baudains (15), Thomas Clayton (16)
Finalists: Kevin Teles (15), Odin Fannon (15)
Young Star of Community:
Winner: Abigail Ellis (16)
Finalists: Jack Clements (15), William Highfield (11), Manita Jones (9)
Caring Star:
Winner: Paris Marquer (12)
Finalist: Bella Smith (15)
Young Star of the Arts:
Winner: Hamish Brody (16)
Finalist: Jonathan Mews (14)
Young Star of Sports:
Winner: Charlotte Pope (15)
Finalist: Kai-Lloy MacGreever (11)
Young Star of Academia:
Winner: Eleanor Mclachlan (12)
Lady Anne Dalton, John Testori from Bambola Toymaster and Malcolm Lewis from Longueville Major were on the judging panel.
"Young Star has always been a difficult event to judge as every one of these amazing youngsters is a winner.
This year was no exception and we all felt very honoured to be part of this opportunity to recognise some of Jersey's finest and most committed Young Stars."