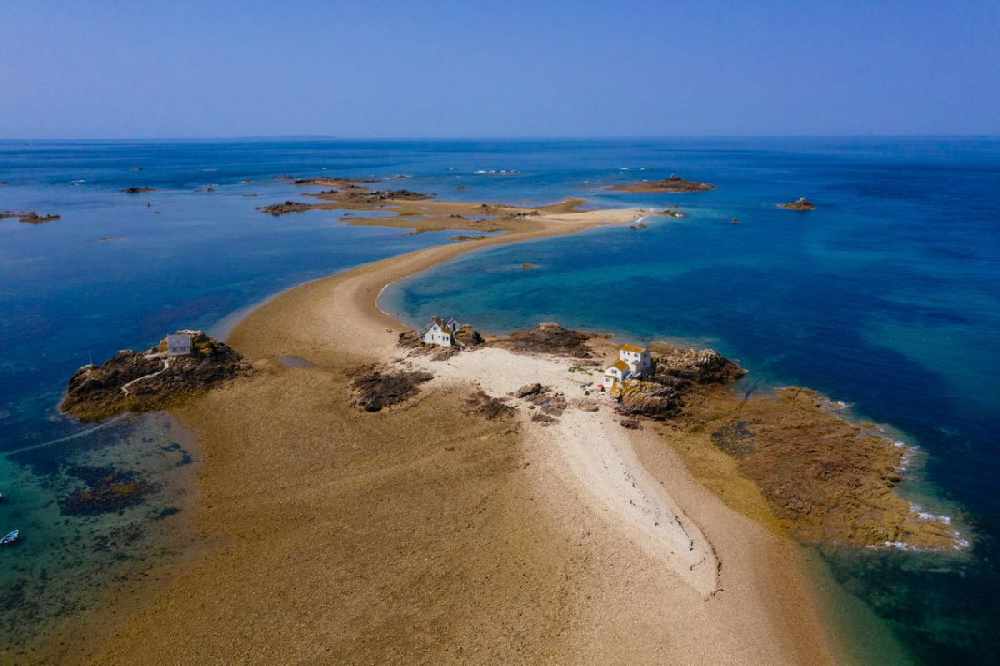 The Blue Marine Foundation has released its vision for seas that could be designated as National Marine Parks over the next ten years, which includes Jersey.
The charity says they can celebrate our biodiversity and heritage, and improve people's understanding of the value of our coast and sea.
"Over the past few decades, scientists have understood much more about the value of the ocean and the importance of the marine environment to the health of the planet. Britain has designated fragile places with an array of acronyms designed to protect them, while striking a balance with the many users of the sea for business and enjoyment. Marine conservation here has been a lifelong endeavour for many people, myself one of them. The building blocks are now complete, we have a marine protection network, but it is opaque to the British public. Our belief is that this limits its potential. Despite a growing global appreciation of the ocean and the challenges it faces, many people are disconnected from truly understanding and appreciating their home waters.
"We propose that a clear way to solve this challenge, one that respects the progress made to establish an ecologically coherent network of protected areas in British seas, one that celebrates marine conservation in a way that people understand, is to create National
Marine Parks. They would ultimately benefit people, the marine environment and our collective efforts to protect it.
"Our vision is for Marine Parks to evolve where there are clusters of marine designated sites and a need to link them with human culture across those areas. Marine Parks have the potential to help us improve co-ordinated management and improve opportunities for people and marine life. They could make more of the connections between our lives on land and the value of our coasts and the sea. Marine Parks would bring together our maritime heritage with our newer appreciation of marine wildlife and the need for its conservation. Marine Parks would enable us to find new ways to celebrate our relationship with the sea." - Daniel Crockett, Blue Marine Foundation.
BLUE's full vision report exploring the potential for marine parks in British waters, showing biodiversity hotspots and including interviews with local experts, can be read here: https://t.co/2EOpVgepZO (2/3) pic.twitter.com/daMW0siIek

— Blue Marine Foundation (@Bluemarinef) April 6, 2021
Signs of recovery of seagrass have been spotted in the protected area of the Minquiers, which the BMF says proves how quickly the marine environment can recover when left alone and protected from harmful fishing practices.
There have also been more regular sightings of the tope shark, cuttlefish, undulate rays, and bream - with global studies estimating that 30 times more animals live in seagrass compared with nearby sandy habitats.
The Chief Executive of the National Trust for Jersey, Charles Alluto, says we need to do something sooner rather than later.
"Our marine environment as a whole, not just Jersey, is in desperate need of conservation and sustainable management and Jersey could be one of the leading jurisdictions in that respect.
"We always talk about Jersey being a world leader. I just think it would be amazing if Jersey could actually be a world leader in terms of looking after its surrounding marine environment.
Great to see this new vision from @Bluemarinef Jersey can be part of this incredibly important initiative as part of bridging Island Plan & further build upon the Environment Dept's crucial work on Seascape Character Assessment @KirstenJersey @HMcG_DGNT @BeccyRSPB @lyndonfarnham https://t.co/xyq6Dh5apV

— NationalTrustJersey (@NatTrustJersey) April 6, 2021
"Declaring a national park ahead of many other places in the British Isles I think would show that Jersey is taking its environment seriously.
"I don't think it should be seen as restrictive. I think it's actually an opportunity to celebrate our marine environment, cherish it, discover it, and enjoy it."
Deputy Chief Minister Senator Lyndon Farnham has been pushing for the idea to form part of the next island plan, but opposition is expected from other groups such as fishermen.
He's told the Blue Marine Foundation that a marine park would protect and showcase the very best of Jersey's sea habitats and boost its reputation as a forward-thinking and responsible jurisdiction.
"Jersey's rich marine life, beautiful beaches and coastline underpin a thriving economy through fishing, water sports, tourism and aquaculture and offer recreational enjoyment for visitors and local people.
"The gifting of the seabed by The Crown Estate to the people of Jersey in 2015 enables unique opportunities for community stewardship of the marine environment. In December 2019, the islands Economic Development Minister suggested that Marine Park status would be good for biodiversity, tourism and the economy, including fisheries.
"Alongside the Island Plan, Marine Plan and Integrated Coastal Zone Management, a Marine Park could create a more holistic vision for marine protection and cultural heritage, promoting low-impact activities within an enhanced and protected environment, including sustainable and high-valued fisheries." - BMF.