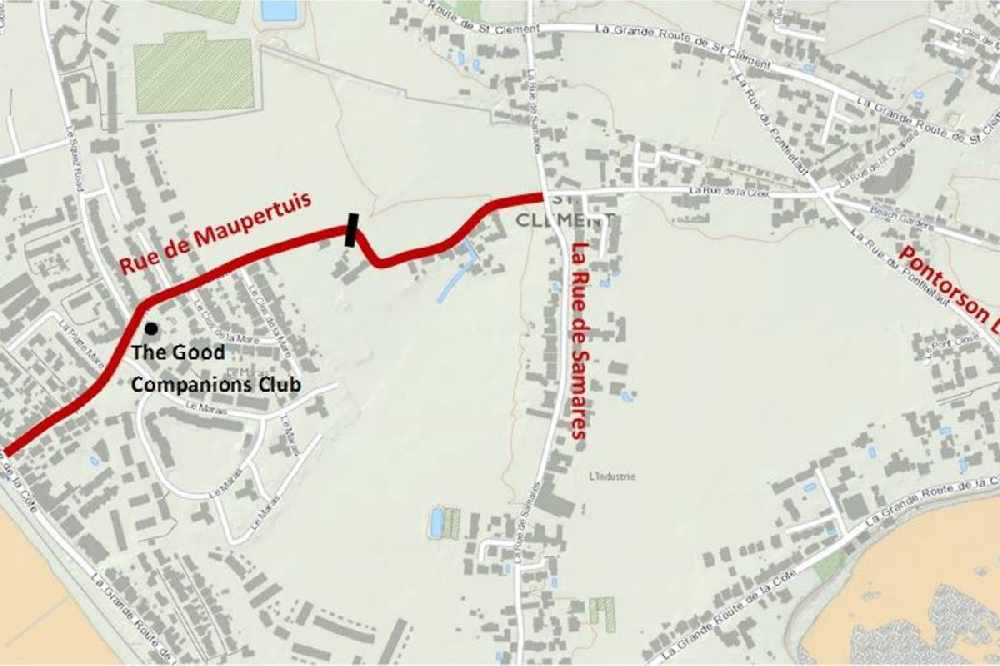 Rue de Maupertuis in St Clement has been closed permanently to through traffic after a one-year trial to encourage students to walk to and from school.
It was shut in April 2019 with the aim of creating a safer way for pupils to get to and from Le Rocquier School.
The government says since then, there's been a 10% increase in pupils using the road during morning peak hour and a reduction in traffic at the junction of Rue de Maupertuis, Rue de Samares and Rue de la Croix.
However, in vehicle count checks at the junction between 7:30am and 9am before and after the trial closure, there was an increase of 67 vehicles travelling northbound along Rue de Samares. That equates to one vehicle every 45 seconds.
Growth, Housing and Environment has described that as 'a minor increase' which could be explained by 'background traffic growth or daily variations in traffic flow.'
There was a reduction in traffic in three of the four arms of the junction, as shown below. The after trial check was carried out in March, before schools were closed.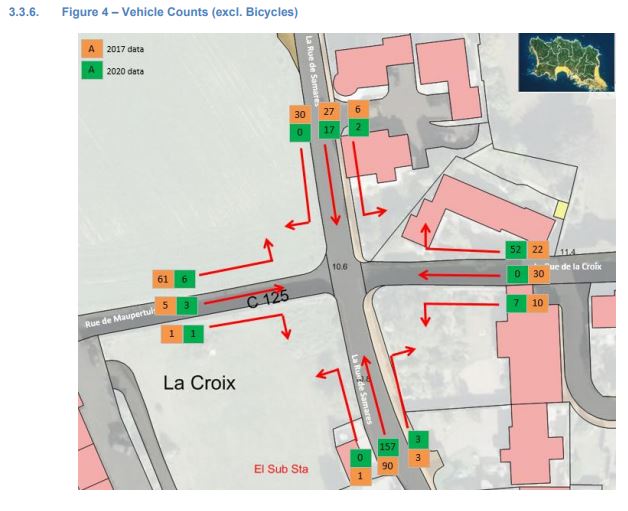 Of 250 Le Rocquier students surveyed, 77% said they felt safer when the road was closed to through traffic. Before the trial, 68% of 119 Le Rocquier students said the closure would make them feel safer.
"This shows, that following the introduction of the trial closure, more than 3 out of 4 students think the closure makes them feel safer and this expectation was fulfilled and exceeded in that there was another increase of 9% in the students' perception of safety along La Rue du Maupertuis observed. In conclusion, with 77% of students feeling the route is safer, students will be encouraged to use the route for walking and parents are likely to support this." - Growth, Housing and Environment.
This data was gathered through a combination of surveys and assessments carried out through the trial, comparing it to evidence gathered before and after the trial.
The permanent closure has been approved by Infrastructure Minister Deputy Kevin Lewis and backed by parish constable Len Norman.
"We are happy to support this initiative to provide safer routes to school for students and increase the use of more active travelling modes on quiet parish roads. It had been my intention to call a Parish Assembly last month to endorse the decision, but because of the current restrictions this was sadly not possible."
Two bollards were installed to close the road, which can be raised in case of an emergency. The Growth, Housing, and Environment Department says this can be kept as a backup for emergencies if the Coast Road has to be closed for any reason. The Coast Road was closed temporarily for resurfacing in February without the need to open Rue de Maupertuis.
The department also says opening the road would mean an important section of the Eastern Cycle Netwrowk would be lost, 'undermining the effort to create safer routes to schools.'
A qualified independent Road Safety Auditor said before the trial (in June 2018) that there was a 'medium risk' of collisions involving personal injury, or damage to vehicles or property.
That same auditor carried out another risk assessment in January 2020 during the trial and moved the assessment to a 'low risk', concluding that the risks to vulnerable road users on Rue de Maupertuis have decreased, and the perception of safety has improved.
The auditor also felt additional collisions involving injury, or damage to vehicles or property are unlikely along the diversion route because of the closure.
The main recommendations to close the road were:
* The trial has shown there has been no overall significant increase in traffic flow on La Rue des Samares or La Rue de la Croix as a result of the trial.
* The trial has seen an increase in active travel modes using the route during the observed periods.
* There has been an increase in the perception of the safety of the route by students at Le Rocquier School. i.e. Students feel safer walking or cycling to school along La Rue du Maupertuis.
There are more details on the data and information gathered before, during and after the trial here. Access to premises is maintained.
"This closure is an excellent example of how a simple road closure can have a positive effect on residents, cyclists and pedestrians. The closure of Rue de Maupertuis will allow more students to stay active by walking and cycling to school and – most importantly – do so in safety."