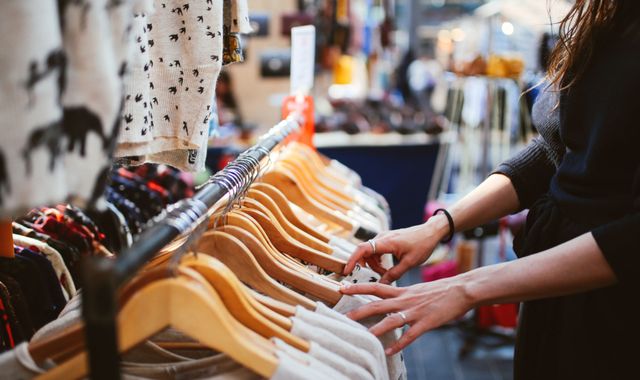 Smaller shops can reopen from today, as Jersey's coronavirus restrictions have eased further.
Those that can maintain physical distancing can resume trading.
Retailers are limiting customer numbers, and some are operating one way systems.
In a government video Town Centre Manager Vicky Trehorel hopes shoppers will return to St Helier's high street:
There is no date yet for when beauty salons, hairdressers, gyms and dental surgeries can reopen.
The government has launched a consultation to draw up new guidelines to make sure they can operate safely, whilst still adhering to the current restrictions as much as possible.
Deputy Chief Minister, Senator Lyndon Farnham says while they may not previously have been deemed 'essential businesses', they still offer vital services:
"There are many hundreds of islanders that are suffering from dental pain, and they can't be treated other than with painkillers and antibiotics, and that is a situation that can't go on for much longer. We have asked officials to look at that urgently. We will be led by the appropriate and sound medical advice. The same applied for the hair and beauty sector."
Meanwhile, the Chamber of Commerce has said we must 'summon the courage' to carefully begin reopening schools and businesses, restarting travel and and allowing a controlled return to social life.
In a statement, President Jennifer Carnegie says the island has 'thankfully had a relatively easy time so far in this global pandemic', but that 'the future remains no less uncertain' as, she says, we are likely to be managing the effects of Covid for many months, if not years to come.
"The options for getting out of any lockdown will usually involve taking calculated risks - the very thing that society has been preparing us to avoid. We need to find the inner resolve to change our habits and take calculated risks to avoid the possibility of an even deeper crisis.
Jersey is at this inflexion point now. The sorts of risks we must understand and be prepared to manage involve reopening schools, reopening businesses whilst enforcing physical distancing, restarting travel in a controlled fashion, and allowing a controlled return to social life including cafes, restaurant, hotels and eventually gyms, hairdressers and pubs. A vaccine may not arrive any time soon, so we must summon the courage to carefully begin these steps now."
On Tuesday, Jersey parliament is due to debate changing the government's coronavirus strategy to one of eliminating the virus. The discussion has been forced by Deputy Jess Perchard. If approved it would mean more stringent lockdown measures until the virus has been wiped out here.
Chamber CEO Murray Norton is calling on politicians 'to be armed with facts rather than armchair opinions'.
" A very slow, very cautious, very gentle, phased approach to opening up the economy - which is matching not only the testing capabilities but also the hospital capabilities we have - seems to be a prudent approach, and I think that both business and government seems to favour that."