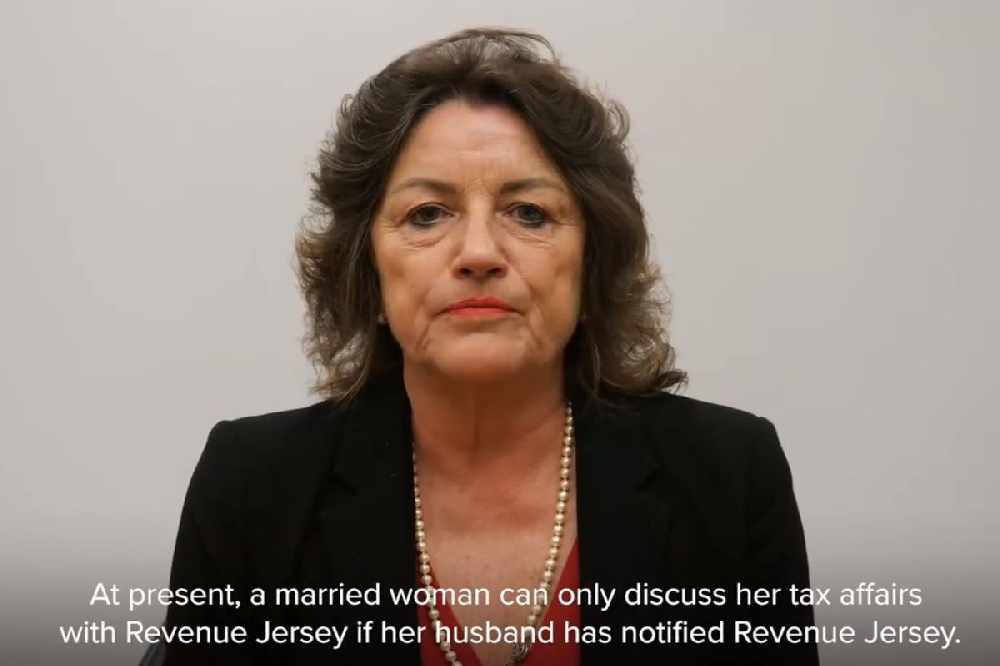 Pressure is mounting on Jersey's Treasury Minister over shortcomings at the Tax department and the island's archaic laws.
Deputy Susie Pinel is countering criticism following weeks of complaints, mistakes and bad publicity.
Delays to assessments, tax forms wrongly sent to scores of children, and then national media attention over the husbands-only tax rule have made it a troubling fortnight for the Treasury Minister.
Deputy Susie Pinel made an explanatory social media video - published on the Government of Jersey channels last Friday - and has followed that with a statement where she calls herself the Minister 'accountable'.
It's the use of that word that has drawn the attention of Deputy Kirsten Morel:
Sloping shoulders syndrome latest update:
In her tardy statement about the mess in the tax office, @susie_pinel describes herself as the minister "accountable for Treasury and exchequer". And we thought she was "responsible" for Treasury and exchequer. Silly us!! @GovJersey

— Kirsten Morel (@KirstenJersey) January 27, 2020

Last week the JEP reported fellow politician Senator Kristina Moore was calling on someone to 'take political responsibility for the unfolding tax debacle'.
Earlier this month, Comptroller of Richard Summersgill apologised that thousands of islanders are still waiting for their 2018 tax assessment because of delays caused by the introduction of a new computer system.
Responding to other complaints from taxpayers who have seen a big jump in their ITIS rate, he insisted that the system was working correctly but 'can be confusing'.
This year is the first islanders can opt to complete their tax return online. 600 people have already done so.
But following the launch last week, several married women took to social media to complain that they still can't submit the document themselves.
Their husband, or the primary taxpayer, must create the digital ID, just as it is the husband who currently needs to sign the paperwork.
The government responded to the renewed criticisms on twitter and Facebook, which in turn drew national media attention to the island's outdated practices.

Deputy Pinel made a further statement on Monday.
"There has been a lot of media and social media comment about the operation of Jersey's tax system in recent days. As the Minister accountable for the Treasury and Exchequer department, I wish to clarify some points.
Online tax filing, which enables personal taxpayers to complete their 2019 tax return online, operates under exactly the same outdated tax legislation as the paper tax form. It does not change the rules relating to married women.
These archaic tax rules need changing, and I am pleased that my proposals to update the legislation governing married women's taxation will be debated in the States Assembly next week. I hope that States Members will support the reform of legislation that has been in place since the 1920s and bring Jersey's tax rules in line with other countries. If we can unite on this issue, the first changes can be made to tax systems in time for the 2021 year of assessment.
I accept the valid criticisms of some aspects of the taxes operation, which arise from operational problems about which Revenue Jersey has been notifying Islanders for months. Islanders deserve a high quality and timely service, and once again I would like to share the Comptroller of Revenue's regret at the delay and the concern that it causes to Islanders whose returns have not yet been assessed.
To recap, tax officers have had an enormous amount of additional work to do in 2019 to move from the 35-year-old ITAX system and to input information manually from thousands of paper files into our new Revenue Management System. In order to iron out some glitches, the new system went live a few months later than planned, but still within budget. The impact of this delay, and of staff shortages, is that the assessment
of 2018 tax returns is still not complete.
I have been receiving regular updates on the situation and what actions are being taken to clear the backlog, and I am very grateful to tax officers for the efforts they are putting into this work, while also implementing and adapting to the modern system. It is the new system that has enabled the Government to offer online filing for personal taxes and more than 600 people have already filed online so far. I urge all taxpayers who can use this new facility to do so."
Meanwhile Deputy Montfort Tadier has suggested class legal action for discrimination be mounted on behalf of married women.