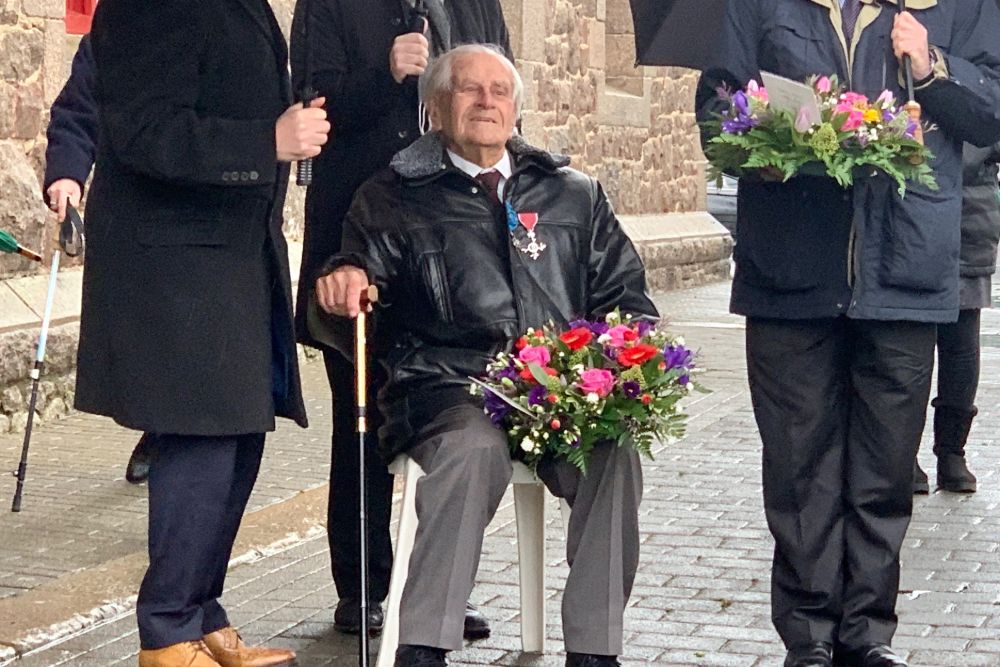 99-year-old Bob Le Sueur at the Holocaust Memorial Day event in January.
A 99-year-old Occupation survivor isn't letting the COVID-19 pandemic disrupt some of his plans for Liberation 75.
Bob Le Sueur was due to publish his memoirs, with a special launch event planned at the Jersey Museum, but now it's being launched online instead.
He recalls his story, including helping escaped Russian slave labourers to escape and harbouring them in safe houses.
It's been put together with the help of local journalist Chris Stone and includes a forward by Bergerac star John Nettles.
Bob spoke to Channel 103 and told us some of what's contained in the book.
"My own memories are just from one person, and I was very young back then. Just 19 when the Occupation began and 24 when it finished. My account isn't just of life under German occupation, but of the war generally."
Bob also told us he sees similarities in how islanders are behaving under the coronavirus lockdown and during the Occupation:
"I find an extraordinary similarity between now and that particular time, and that was a 'sharpening of personalities'. One grew up rather quickly, and what I learned was that people who had always been helpful to others and unselfish about themselves became really quite saintly. People who always had a mean and selfish streak became absolute b******s.
"Maybe it's because of my antiquity, I've been almost overwhelmed with people asking 'is there anything we can do for you?', 'would you like your shopping done?'. It really is enormously touching to find, as I've always known really, that there are far more positive people in the world than negative ones. The negative ones just get the publicity because they are so negative and unpleasant, but the positive ones - there are more of them."