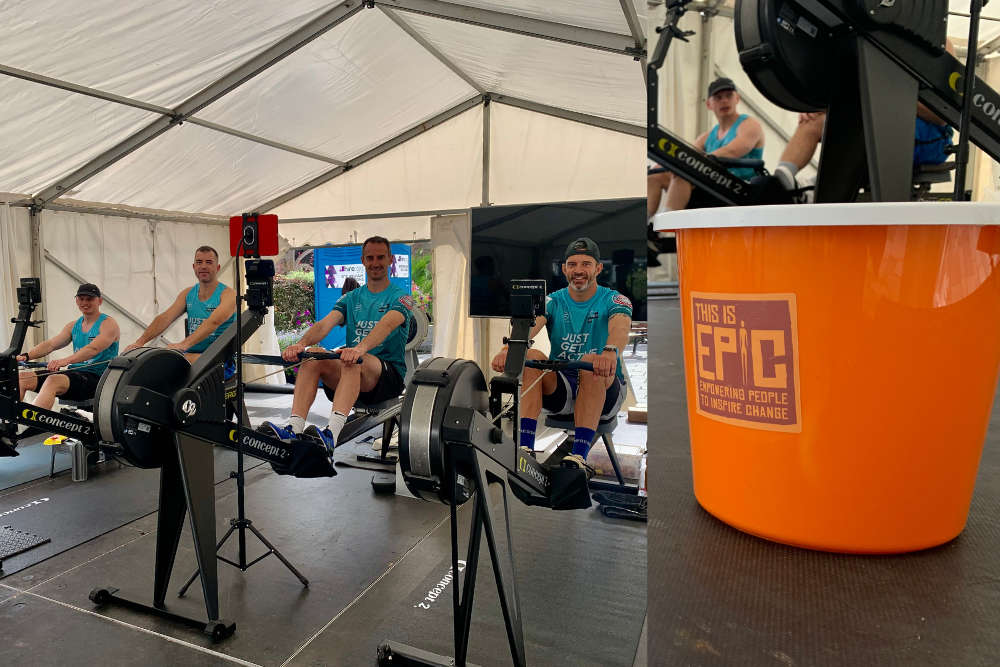 Four men have set up in Guernsey's Market Square to take on an intense physical challenge for charity.
Phillip, Pete, James, and Martin have started their Epic Week challenge today (11 September).
The men intend to row a marathon each day, for seven days.
Islanders can see the team strapped into their rowing machines from 10.30 each morning.
Guernsey's Epic Week of Just Get Active, asks islanders of any age or ability to take part in an activity that challenges them - with the money raised going towards This is EPIC and the Priaulx Premature Baby Foundation.
Participant Phillip Smith is from This is EPIC. He says they are as prepared as possible:
"For the last four months, we've been trying to coach ourselves in terms of the best rowing technique.
Three of us have never really rowed before. Pete came up with the idea - he's a rower.
But we know by day three or four it's going to become very painful, so you've got to embrace the pain."
He hopes a lot of people will get involved in their own way this week:
"The physical benefits of being active are well known, but from a mental perspective, it is an escape from the rubbish on social media and some of the news not being so good.
Sometimes you just need a release, to get out in nature and get your heart rate up."
Participant and PPBF trustee Pete Beausire says the support has been overwhelming:
"These are Guernsey Charities that benefit Guernsey families, so hopefully we can raise lots - We've already got over £5000!"
Islanders can donate online, or visit them in person to use the donation buckets and contactless card machines.