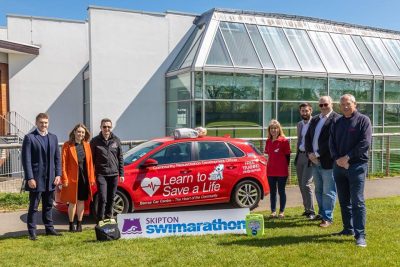 Registration is now open for the 2019 Skipton Swimarathon.
It's the biggest local fundraising event of the year, with thousands of people taking part to raise money for good causes.
This year the money raised will go to the Cardiac Action Group - a charity who train people to use public access defibrillators.
Nick Guillemette, the chairman of the organising committee, says people must love the event.
'The Swimarathon's been going since 1976 - pretty good, eh?' he mused.
'This is the 43rd year and I think that's the testimony of the whole thing. Why would people keep coming back if they didn't enjoy themselves?
'It's the biggest community fundraising event Guernsey has, it involves nearly 300 people of all ages and all abilities.'
This year's main beneficiary, the Cardiac Action Group (CAG), say they will use the money to fund even more public access defibrillators as well as free training on how to use them safely.
Mike Froome, the community resuscitation development officer with the CAG, says the island is getting better at looking out for cardiac health.
'When I started this role in 2018, we had 34 24-hour public access defibrillators,' he explained.
'These are in boxes all over the island as much as we can - and they're locked in the box and to get them out you have to phone the ambulance service.
'Every minute that your heart has stopped beating and you're in a cardiac arrest that you don't get a shock from the defibrillator, your chance of survival goes down by 10%.'
The first public defibrillator was installed in the island six years ago, and in that time the number has nearly doubled with the newest one fitted on Le Pollet earlier this week.