The Tamarind Relaunch Party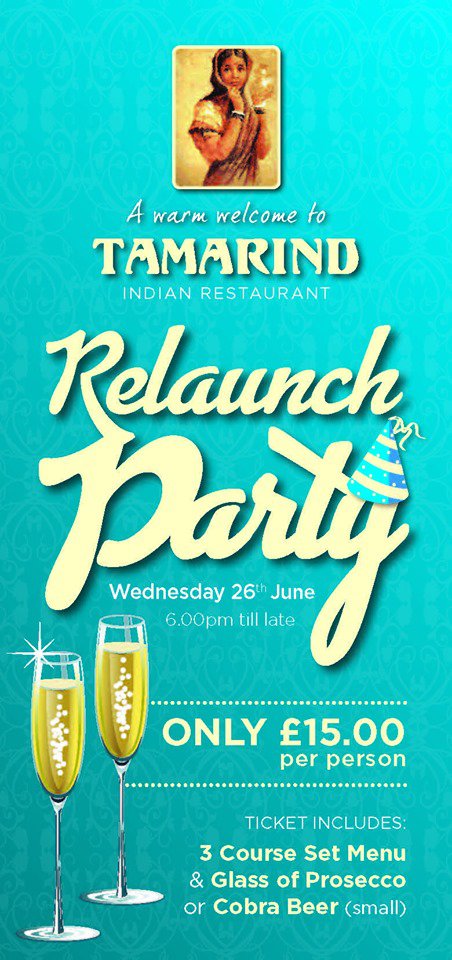 The Tamarind is inviting you to their Relaunch Party on Wednesday 26th June from 6 pm until late. You can go and experience your favourite Indian delights in new surroundings. For just £15 you will get a 3-course meal of your choice from the special menu on the night with a glass of Prosecco or a small Cobra Beer to enjoy. It will be a fantastic dining experience with family or friends.
We have the chance for you to win 4 meals for 2 people. Listen to Spencer Davies between 10 and 2
and Liam Cash between 2 and 6 from today and tomorrow!
Food on the night includes:
Starters

Lamb Chops

Tender lamb marinated in spices with mint, garlic and ginger, then grilled in tandoori and served with fresh green salad.

Bihari Chicken

A whole boneless chicken breast marinated in yoghurt, fresh mint sauce, ground spices, filled with lamb mince meat then grilled in tandoori and served with a fresh green salad.

Vegetable Samosa

A portion of (2) deep fried Triangular shape pastry stuffed with mixed vegetables and served with fresh green salad.

Main Courses

Lamb Shanks

Lamb shanks cooked with lamb mince meat in a delicious mild to medium sauce consisting of cinnamon, cardamom, cloves, ginger and garlic.

Tamarind Lamb Curry

Tender pieces of lamb on the bone cooked with garlic, ginger, mixed spices, coriander, green chillies in an authentic onion and tomato sauce.

Stuffed Chicken

A tender whole piece of chicken breast, gently cooked with spinach, cheese, garlic, ginger, special spices, coriander in a medium lemony (shatkora) sauce.

Vegetable Curry

Made with an assortment of fresh vegetables cooked with spices, in a mild, medium or hot to your taste sauce

Rice & Bread

Peas Pulao Rice

Basmati rice fried with peas.

Butter Nan

Leavened bread baked in the tandoori oven drizzled with butter
There will be cake and ice-cream for desserts!
Head to their website for food menus and opening times. They also have a fantastic function room upstairs for all occasions. They are located on Waterloo Street.


Become a Channel 103 VIP!