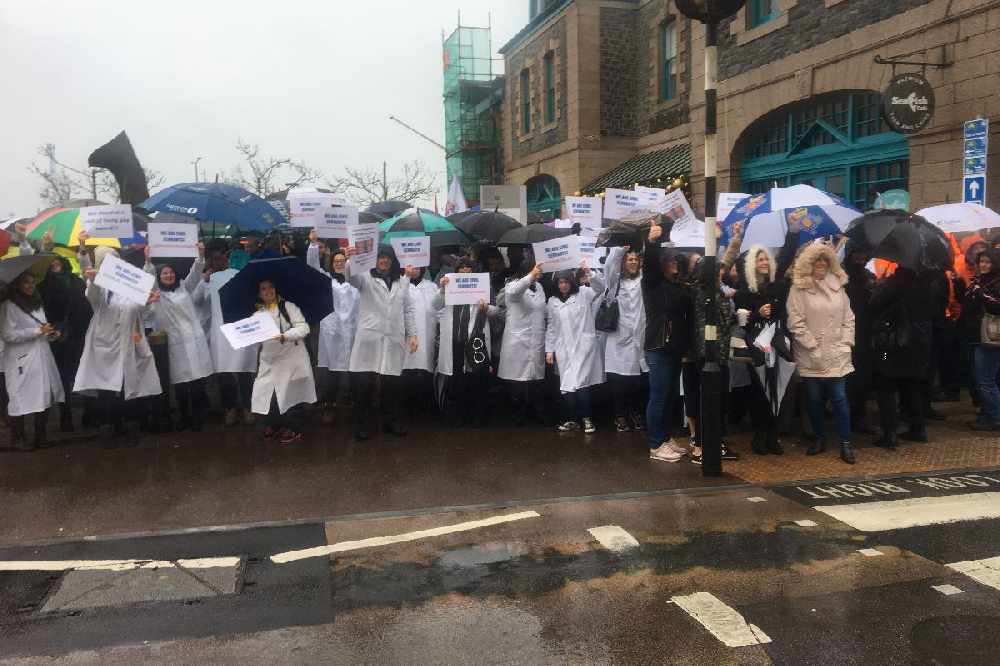 Public sector workers and civil servants will strike again next week.
The States Employment Board has ruled out a revised or improved pay offer for civil servants.
Customs and Immigration officials and teaching assistants will walkout on Monday, with other civil servants following suit on Tuesday.
It's due to the ongoing dispute over pay awards.
SEB vice-chair Constable Richard Buchanan says the situation hasn't changed.
"They keep coming back and saying will we increase the offer? The answer is we can't because there isn't any more cash to do that. We keep repeating that message. There is no more money so we are not in a position to make an increased offer."
Parents are still waiting to find out how next week's strike action will impact schools.
Teaching assistants will walk out between 11:30 and 2pm.
"We're still trying to work through the scenarios with the schools. I can't give you an absolute answer on that (how schools will be affected).
"We will keep parents advised as to what's going to happen, but we believe there will be some disruption over the lunch period." - Constable Buchanan.
Nurses could be the next to take industrial action - although unions say that would be a last resort.
A revised offer of 6.1% consolidated over two years has been rejected by the RCN and JNA. It has been accepted by Jersey midwives.
Lindsay Meeks from the RCN says nurses have had enough of being undervalued, and has warned there'll be no staff in the new hospital if concerns aren't addressed.
It's contacting the Advisory and Conciliation Service, saying industrial action is an 'absolute last resort, and it needs to be sure it's 'exhausted all potential avenues' first.
Kenny McNeil from the Royal College of Nursing says there's a lot riding on those discussions.
"We've never been in a serious a position as we are now. If the government fail to notice that and take that on board, then clearly we could be going down a very difficult pathway."
Constable Buchanan says it is a priority for the SEB to reach an agreement with nurses.
"I'm disappointed and slightly surprised (that nurses rejected the revised offer). Not because we believe it's a financial implication, we understand it's below the cost of living, but also from some of the feedback we've had from some of the other issues they've got.
"We've agreed to go to JACS and go to mediation and also my officers are contacting nursing unions today to arrange a meeting to see if we can work through these issues and resolve them."