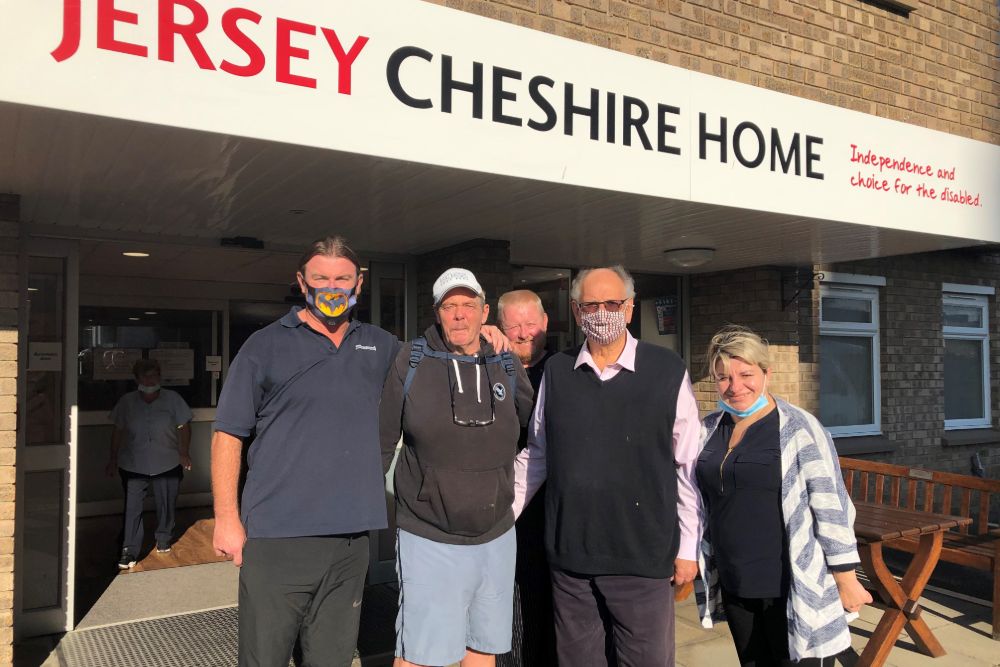 L-R: Steve Martin; Paul Rayner; Chef, Adrian Doolan; General Manager, David Lord and Care Manager, Liliana Opinca
One of Jersey Cheshire Home's residents has moved out to live more independently after just four years of rehabilitation.
Paul Rayner moved into Eric Young House in 2016, after a brain injury left him unable to walk unaided.
The charity has praised his 'triumphant' recovery, saying normally residents at the home receive care for around 15 years.
Earlier this year, Paul raised more than £7,000 for Jersey Cheshire Home after the COVID pandemic disrupted its usual means of fundraising.
Paul finishing his fundraising row
His efforts have allowed the charity to restart it's fundraising efforts despite the restrictions of this year.
David Lord from the charity praised the whole team for playing 'a vital role in Paul's remarkable transformation':
"Of course, this success story would never have been possible without Paul's incredible enthusiasm and dogged determination to succeed.
"He is a great character and we will miss him, but we are of course thrilled with his achievements and we all wish him the very best for the next stages of his adventure."
After working with carers, physios and support workers, Paul leaves Eric Young House with skills needed to lead an independent life away from the home.
Head Physio, Steve Martin, says it's been a delight to support Paul through his rehab:
"He has such enthusiasm to overcome his injury and works so hard to meet his goals. Along with all my colleagues, I've so enjoyed working with Paul. We're going to miss him, and his wonderful ideas, so much, but equally, we are so delighted that he is able to regain a more independent life."